pHRP Technology & Services
The Novodiax patent pending polymerized horseradish peroxidase (pHRP) is a highly sensitive proprietary signal amplification technology that is the building block of our rapid immunoassays. With many years of development and direct application, we have now perfected the technique and characterized the polymerization process. Today this technology is being broadly applied to immunohistochemistry (IHC), immunocytochemistry (ICC) and enzyme-linked immunosorbent assays (ELISA) via our trademarked products such as ihcDirect®. Consider partnering with Novodiax for your next OEM or immunoassay development project.
ihcDirect
ihcDirect is the brand name for the in vitro diagnostic application of pHRP technology and we are confident that these products are already helping improve medical outcomes, e.g. elimination of Slow Mohs procedures. This revolutionary technology blends our knowledge of qualifying, developing, and producing antibodies with our unique proprietary pHRP amplication method to reliably bring about simplified and faster IHC, ICC and ELISA.
Some of the unique advantages ihcDirect can provide to the market include:
Facilitation of less than 20-minute intraoperative IHC diagnostic test procedures.
Frozen tissue test turnaround times of ~10 minutes
Simplified test procedures require fewer test steps so techs can learn to perform these tests with minimal training
Application of assays onto other Autostainers such as Leica Bond to improve the throughput of those systems
Future application in other related medical fields e.g. for rapid assessment of tissue or cellular biopsy specimens such as cells extracted for thyroid cancer evaluation using cytological methods
ihcPrime™
ihcPrime is synonymous with our new Q-STAIN X Autostainer System. ihcPrime reagents offer the following advantages:
ihcPrime reagents are prepackaged and optimized for the Q-STAIN X Autostainer
Each reagent is barcoded and ready for integration onto Q-STAIN X
Expected to achieve > 50 available antibodies in 2022
Companion Diagnostic Capabilities/Services:
Direct conjugation of antibodies is simple as there is only the antibody and our polymer. This conjugation creates a new "Best in Class" companion diagnostic via the resulting binary (On/Off) reaction that occurs from the combination of your antibody or protein drug of interest and our polymerized HRP. What could be more direct or simpler than THE therapeutic that's destined to be given to the patient measured directly with the patient's tissues (antigen)? Now, there is no longer the need to modify the antibody or protein therapeutic to create the CDx antibody.
Direct conjugation can also simplify premarket testing of antibodies since human tissues can be utilized much earlier in the process. And since there's no need to modify the antibody to fit the anti-mouse or anti-rabbit primary antibody, ihcDirect can provide a more "true" representation of the drug-to-patient interaction.
Novodiax services for companion diagnostics (CDx) test antibody development fulfill at least three market needs:
Help determine the binding profile on cancer tissues in early development drug stages and eliminate unwanted non-specific bindings by endogenous biotin in two-step IHC
Determine normal tissue cross-reactivity in late pre-clinical drug development stages.
Provide "best in class" companion diagnostic antibodies for clinical and market stages.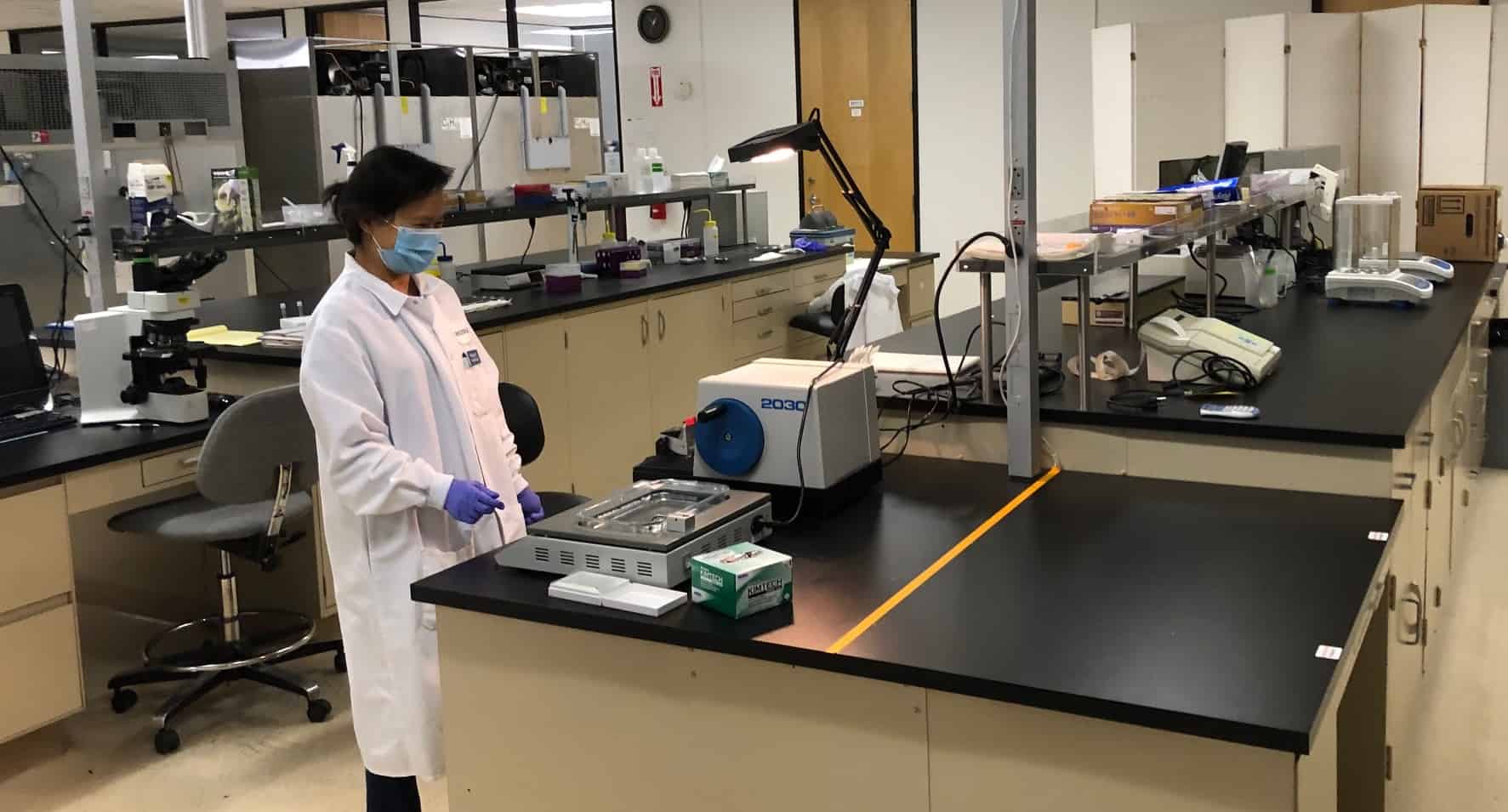 Novodiax ISO13485 Manufacturing Lab